Welcome to a new carpentry experience!
   Your home is your pride and joy, it's a true expression of your personality. It's a place you can go to get away and relax after a long day at work or maybe on the weekend to enjoy time with family and friends. At Ken's Custom Carpentry we understand this and would be happy to help you personalize your home to better suite your needs and make it your own.
Maybe you've been thinking about that deck or a rec room or maybe you got some ideas from a magazine or television.  Let Ken's Custom Carpentry help make your dreams a reality. Pretty much any carpentry idea that you can dream up we'll use our years of experience to make it a reality. From decks to the most elaborate  finish carpentry we can handle it all. Don't let the name fool you, even if your ideas aren't custom, but pretty straight forward you can count on Ken's Custom Carpentry for a quality job done every time.
I believe the biggest part of the job is the planning, that's why we take our time and carefully plan your job  with drawings and/ or samples if necessary to help you visualize the products we are using and what the end product will look like,For your convenience we do all consultations in the comfort of your home.  Also we have detailed job proposals with no hidden costs, to ensure we are doing exactly what you have in mind and guarantee satisfaction.
Thank you for viewing our website and we hope to have the opportunity to serve your needs, please take some time to check out the rest of our website, especially our services page for a complete list of  items we can assist you with.  Thank you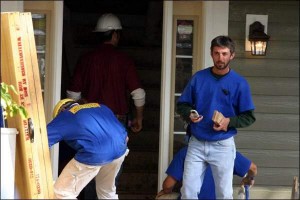 In 2006  ABC's Extreme Home Makeover
   came to Dundee, WI.  Ken's Custom Carpentry
   was put in charge of organizing and completing
    the interior finish carpentry, front  porch and deck,
   and renovation of the mill along with various other duties.